HYDROSEEDING - SOIL STABILIZATION - DUST CONTROL - EROSION CONTROL
COMMERCIAL HYDROSEEDING - RESIDENTIAL HYDROSEEDING
SERVING ALL CALIFORNIA - CALL FOR A FREE ESTIMATE TODAY! (951) 680-1949
Hydroseeding - Dust Control - Erosion Control - California
Hydroseeding & Erosion Control Services – serving residential and commercial clients in California.
LAWNS & TURF
Save money on your new lawn, hydroseed for a fraction of the cost of sod. Have a beautiful lawn in three weeks – you can grow a new lawn even in the hot summer months! We use only the best quality turf seeds and professional-grade fertilizer mixtures to ensure a hardy, long-lasting turf.
Ask us about drought-tolerant options that can produce a sturdy green lawn while utilizing far less water!
OVERSEEDING
Did you buy a new home recently? Is your lawn in bad shape? We have several hydroseeding techniques for reviving or replacing your lawn for pennies on the dollar compared to turf sod.
HYDROSEEDING & HYDROMULCH
We can hydroseed wildflowers, ground cover, and even some shrubs. Talk to us about your planting projects!
EROSION CONTROL
Have soil erosion problems? Consider cost-effective hydro-mulch or hydroseed for soil and slope stabilization. Need to re-vegetate an area? No problem, give us a call today for a free estimate.
DUST CONTROL
We offer commercial dust control services om California. Our unique, non-toxic blend lasts longer and utilizes far less water than most of our competitors. Call us for a project estimate today!
---
HYDROSEEDED WILD FLOWERS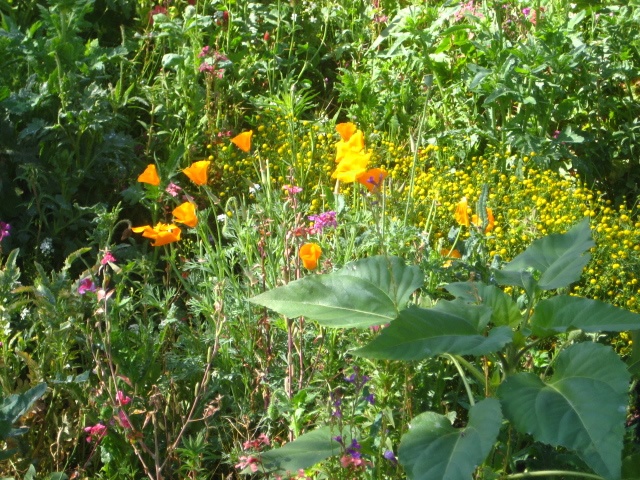 A TRUSTED PARTNER FOR DECADES
ASK US ABOUT DROUGHT TOLERANT
TRIPLE CROWN TALL FESCUE!
Triple Crown is a blend of three elite turf-type tall fescues specifically selected for California. It exhibits outstanding dark green color and fine texture with improved movability and is one of the most drought tolerant and lasting wear cool season grasses.
We have had dramatic success with this seed variety from Stovers. It does extremely well in high traffic areas where appearance and low maintenance are important including Lawns, Playgrounds, Parks, Cemeteries, Commercial developments, and Sports Turf.
CLICK HERE TO LEARN ABOUT THE TOP 4 DROUGHT TOLERANT TURF OPTIONS
MORE ABOUT CANYON HYDROSEEDING
Our Partners